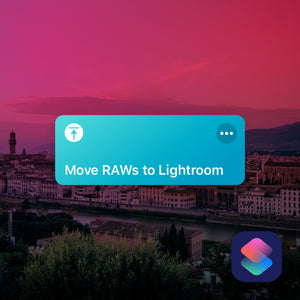 Move RAWs to Lightroom iOS Shortcut
Regular price $0.00 Free Sale
This iOS Shortcut is temporarily unavailable. Apple has currently disabled the ability for iOS Shortcuts to be shared as digital downloads. As a result, I'm currently looking into a better way to distribute my Shortcuts for free. Stay tuned!
With the introduction of Shortcuts in iOS 12, you can now get more done with fewer taps.
This iOS Shortcut opens all photos from your last import in Adobe Lightroom CC. Once completed, it will delete the originally imported photos from your Photos app to help you save storage space. You should use this Shortcut if you prefer to store your imported photos in Lightroom instead of in your Photos app.
Note: iOS requires that all imported photos be stored in Photos by default. This Shortcut effectively helps you move those photos to Lightroom after importing.
Download this free Shortcut on your iPhone or iPad and make your Lightroom workflow even more efficient.
How to use this Shortcut:
Import your photos from you SD card into your iPhone or iPad
Open the Shortcuts app and tap the Move RAWs to Lightroom Shortcut
When all photos have opened in Lightroom, confirm that you'd like to delete the photos from your Photos app
Magic! Your newly imported photos will now be in Lightroom
Access this Shortcut as a widget, through Siri, or on your Home Screen for even more efficiency
Known issue: Unfortunately, Adobe Lightroom CC may limit the amount of photos that can be imported at one time. To work around this limitation, you can try running the Shortcut multiple times (photos won't be deleted from Photos until all photos have been successfully opened in Lightroom) or avoid importing more than 150 photos at a time.
This Shortcut requires:
The Shortcut file will be available for download immediately after purchase. The download link must be opened with Safari on your iPhone or iPad to be properly installed.