Adobe Lightroom Presets
Give your photos a professional finish with my personal custom presets made for Adobe Lightroom. Choose between VHP 01 or VHP 02 to find the right aesthetic for you. Can't decide? Get them both as a bundle.
Presets are Adobe Lightroom's way of saving a set of editing adjustments so that you can easily re-apply the same adjustments to multiple photos.
There are over 100 ways to edit a photo using Adobe Lightroom, but I like to categorize all of these into 2 groups: style adjustments and composition adjustments.
Instagram Hashtag Assistant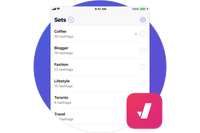 Your hashtags, but like, with one tap
Jetpack is the fastest way to organize and copy your hashtags for Instagram. We know because we've timed it. Now available in the App Store.
Learn More